Rigid Conduit Bodies-C type
Material : Aluminum die cast
Surface Finish : Powder coat
Type : Threaded C type
ELECMAN ® Rigid Conduit Bodies-C type
PRODUCT: Rigid conduit body
MATERIAL: Aluminum die cast
TYPE: Threaded C type
APPLICATION:
ELECMAN®Rigid conduit bodies are used with IMC/Rigid conduit, for pulling access or to split into multiple directions. Removable cover allows access for maintenance and making taps and splices to conductors.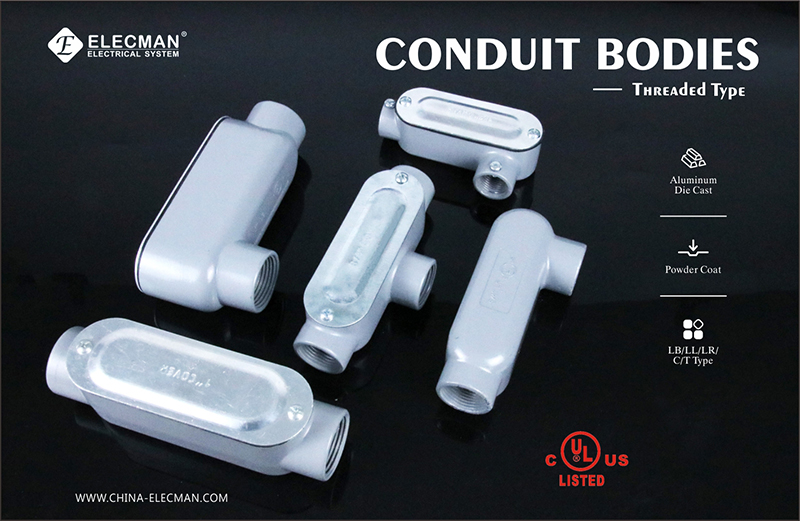 FEATURES:
·Durable die cast aluminum construction.
·Premium powder coat finish.
·Stamped aluminum cover.
·Includes NBR synthetic rubber gasket.
·Combination head screw.
Cat.#

Size

Dimensions

Height/cm

Length/cm

Width/cm

TC50

1/2"

4.05

12.00

3.40

TC75

3/4"

4.73

14.00

3.97

TC100

1"

5.40

16.40

4.62

TC125

1-1/4"

6.95

21.20

6.37

TC150

1-1/2"

6.95

21.20

6.37

TC200

2"

9.25

26.80

8.10
PACKING INFORMATION
Individually shrink-wrapped for each conduit body
External packing: Corrugated carton