Split Bolt Connectors-With extra stud
Material : Cooper alloy
Surface Finish :
Type : With extra stud
ELECMAN ® Split Bolt Connectors-With extra stud
PRODUCT: Split Bolt Connector
MATERIAL: Cooper alloy
TYPE: With extra stud
APPLICATION:
ELECMAN®Split bolt connectors with extra stud are used for copper and copperweld wire and rebar connections. the conductor types inculde: solid, compact, compressed, concentric. also for grounding of steel structures, fence posts and tapping cables from bus bar.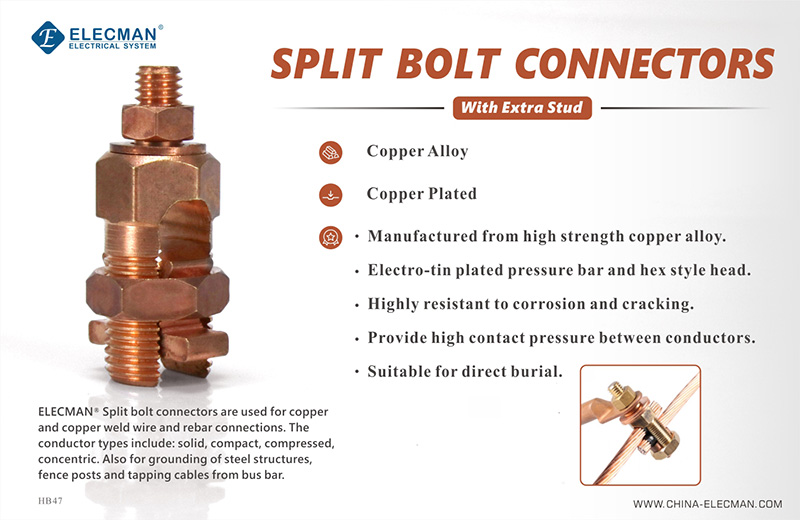 FEATURES:
·Manufactured from high strength copper alloy
·Electro-tin plated pressure bar and hex style head
·Provide high contact pressure between conductors
·Highly resistant to corrosion and cracking
·Suitable for direct burial
Cat.#

Conductor Range

Corredera

Wire Diameter Range

AWG

Inch

SBCD-8

8 - 6

7/32"

0.129 - 0.184

SBCD-6

6 - 3

1/4"

0.162 - 0.260

SBCD-3

3 - 2

5/16"

0.229 - 0.291

SBCD-2

2 - 1/0

3/8"

0.258 - 0.367

Note: For the size of all wires, if there is no special explanation , all are American Wire Gauge (AWG)
PACKING INFORMATION
INTERNAL PACKING: Small carton box or self sealing plastic bag
EXTERNAL PACKING: Corrugated Carton