EMT Conduit Bodies-T type
Material : Aluminum die cast
Surface Finish : Powder coat
Type : Set screw T type
ELECMAN ® EMT Conduit Bodies-T type
PRODUCT: EMT conduit body
MATERIAL: Aluminum die cast
TYPE: Set screw T type
APPLICATION:
ELECMAN®EMT conduit bodies are used with EMT conduit, for pulling access or to split into multiple directions. Removable cover allows access for maintenance and making taps and splices to conductors.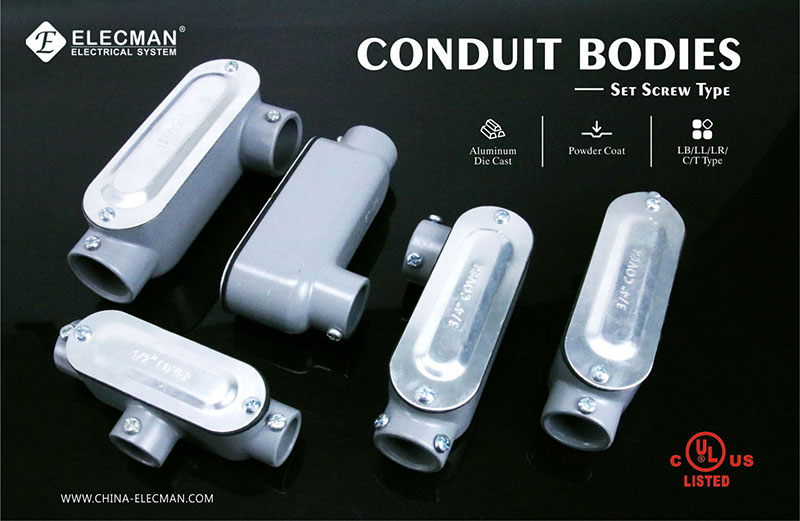 FEATURES:
·Durable die cast aluminum construction.
·Premium powder coat finish.
·Stamped aluminum cover.
·Includes NBR synthetic rubber gasket.
·Combination head screw.
Cat.#

Size

Dimensions

Height/cm

Length/cm

Width/cm

ST50

1/2"

4.05

12.00

5.15

ST75

3/4"

4.73

14.00

5.85

ST100

1"

5.40

16.40

6.81

ST125

1-1/4"

6.95

21.20

8.94

ST150

1-1/2"

6.95

21.20

8.94

ST200

2"

9.25

26.80

10.85
PACKING INFORMATION
Individually shrink-wrapped for each conduit body
External packing: Corrugated carton