Conduit Hangers With Bolts
Material : Steel
Surface Finish : Zinc plated
Type : With bolts
ELECMAN ® Conduit Hangers With Bolts
PRODUCT:Conduit hanger
MATERIAL: Steel
TYPE: With bolts
APPLICATION:
ELECMAN®conduit hangers are used to support runs of EMT, IMC and Rigid conduit from ceilings and walls in dry or wet locations.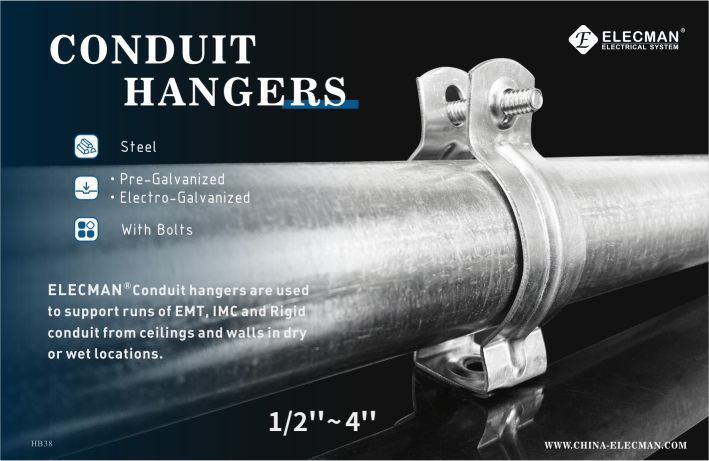 FEATURES:
·Furnished with nut and bolt to speed installation.
·Electro-galvanized and pre-galvanized are both available.
·Nut and tri-combination head bolt suitable for wrench, screwdriver
or nutdriver installations.
| | |
| --- | --- |
| Cat.# | Trade Size |
| SCH050 | 1/2" |
| SCH075 | 3/4" |
| SCH100 | 1" |
| SCH125 | 1-1/4" |
| SCH150 | 1-1/2" |
| SCH200 | 2" |
| SCH250 | 2-1/2" |
| SCH300 | 3" |
| SCH350 | 3-1/2" |
| SCH400 | 4" |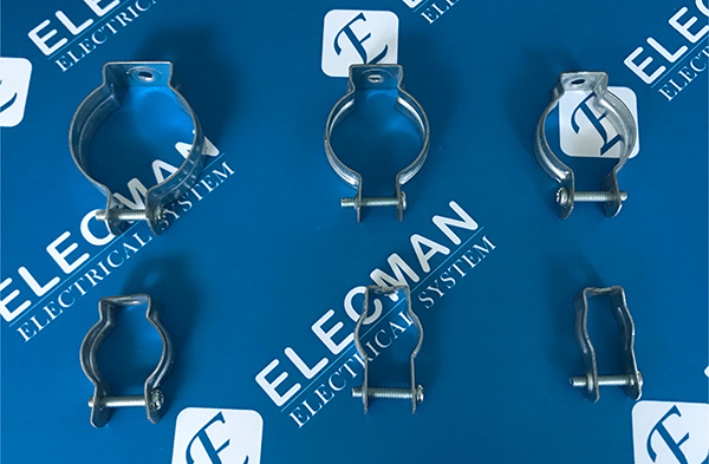 PACKING INFORMATION
INTERNAL PACKING: Small carton box or self sealing plastic bag
EXTERNAL PACKING: Corrugated Carton