Form 5 Threaded C Conduit Body
Material : Malleable iron
Surface Finish : Zinc plated,Aluminum enameled,Hot dip galvanized
Type : Threaded C type
ELECMAN ® Form 5 Threaded C Conduit Bodies
MATERIAL: Malleable iron
TYPE: Threaded C type
APPLICABLE THIRD PARTY STANDARDS:
• UL Standard 514A
• Fed.Spec. W-C-586D
• NEMA:FB-1
NEMA4
APPLICATION:
Form 5 malleable iron conduit bodies are used in conduit systems to:
• Act as pull outlets for conductors being installed.
• Provide openings for making splices and taps in conductors.
• Act as mounting outlets for lighting fixtures and wiring devices.
• Connect conduit sections.
• Provide taps for branch conduit runs.
• Make 90 degree bends in conduit runs.
• Provide for access to conductors for maintenance and future system change.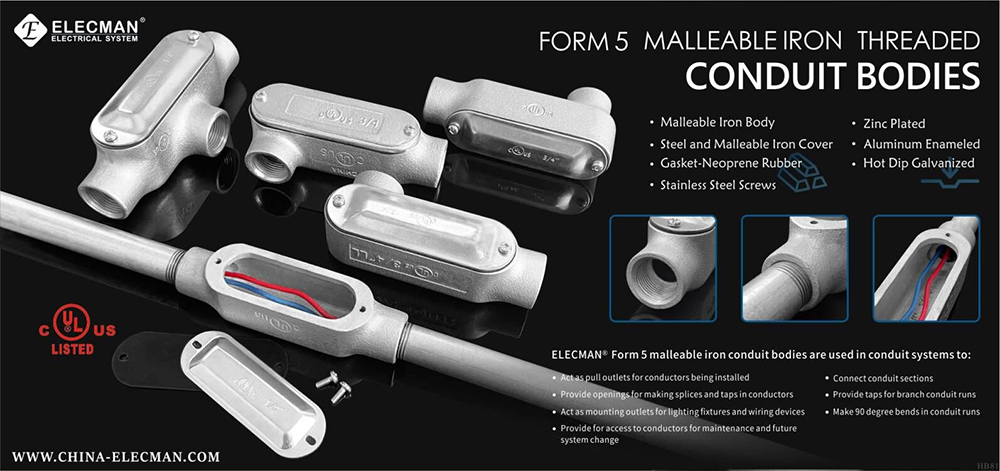 FEATURES:
• Interchangeable with Appleton Form 35 conduit bodies.
• Built-in rollers on 11/4" to 4" C and LB bodies to facilitate wire pulling.
• Smooth and rounded integral bushings for protection of wire insulation
• Solid neoprene gaskets may be converted to open type by pulling out perforated center section.
• Stainless steel cover screws.
• Domed sheet steel covers provide additional cubic capacity.
• Integral gasket cover provides NEMA 4 rating.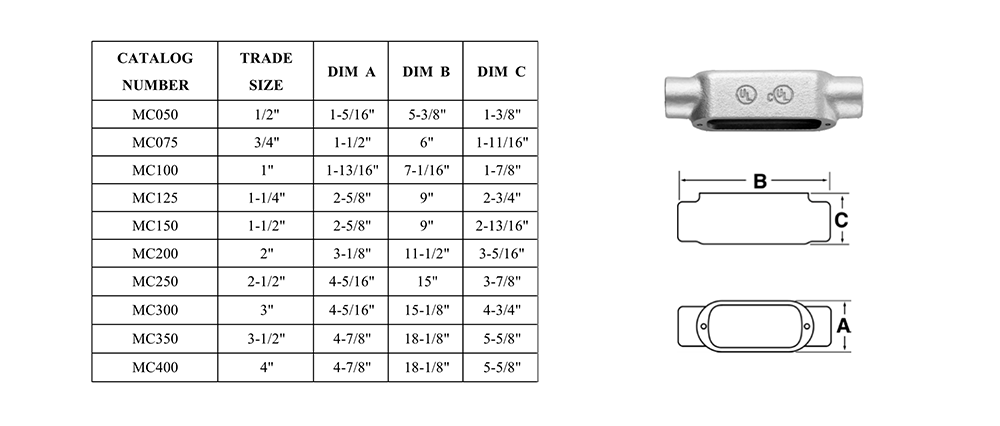 PACKING INFORMATION
External packing: Corrugated carton
Other names: Condulet form 5, form 5 conduit outlet bodies, form 5 conduit body